Executive Director's Profile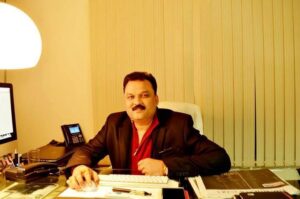 Mr. Ambika Misra, an MBA having 18+ years of extensive work experience. Currently serving as the CEO of a flourishing group with diverse portfolio including Construction, Infrastructure leasing & Education.
Career Highlights
Playing a vital role in various fields of business activities. Comprising variety of Construction Company, Infrastructure Rental Company & Educational Institutes.
Managing a team of more than 1000 employees pan India.
Extensive knowledge and expertise in skill development on ultra-modern technologies Managing the formulation of services and unique product development by proper analysis ofthe emerging scenario of the industry.
Key skill and attribute is the organized approach and analytical evaluation of each and every activity related to the core areas of business (Construction, Infrastructure & Education).
Thorough understanding of the fundamental principles of business administration & their practical uses.
Profound managerial qualities and skills to handle multiple teams simultaneously.
Ability to handle both the internal activities of an organization as well as the external dealings with customers & govt bodies.