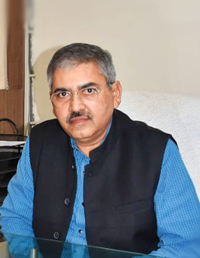 Dr. Ashutosh Dwivedi, a Mechanical Engineer and a P.hD having 26+ years of experience in the academic space, currently serving as the Director of Ambalika Insitute of Management and Technology (AIMT), Lucknow. He has done B.Tech (Mechanicals) from MMMUT and Masters from M.L.N. R. Engineering College. He has completed his PhD thesis, 'A Study on Quality and Inspection Error at Inventory Control'.
Career Highlights
Dr. Dwivedi has published several important papers in reputed Science Journals.
He has been the topper of NBA Accreditation and Teaching Learning Course as well as SWAYAM
Online Course by IIM Bangalore.
He has served several academic institutions as Professor and Head of Departments.
He has successfully established Outcome Based Education Systems, Training Program for Faculties for NBA Accreditation, Center for Robotics and Al as well as CS and CAD/CAM laboratories