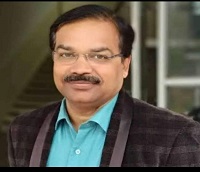 Prof. Pandey brings a wealth of experience and expertise to this esteemed position. Prior to his appointment at AKTU, Prof. Pandey served as the Vice-Chancellor of Madan Mohan Malviya Technical University (MMTU). During his tenure at MMTU, Prof. Pandey showcased exemplary leadership and innovation, helping the university to achieve the prestigious grade A accreditation from NAAC, thus making it the first technical university in Uttar Pradesh to receive this recognition. 
Prof. Pandey's academic journey is equally impressive. He completed his B.Tech in Electrical Engineering from Ram Manohar Lohia University, Faizabad in 1987 and later obtained his PhD from Uttar Pradesh Technical University. His profound knowledge and passion for academia have been instrumental in shaping the future of technical education in Uttar Pradesh. 
Prof. Pandey is committed to upholding the university's reputation for excellence and furthering its progress. His immediate priority is ensuring the timely declaration of all pending results, demonstrating his dedication to the academic advancement of students.
Prof. Pandey also envisions a future where AKTU takes a leading role in the digital landscape. He aims to promote teaching, learning, and research in revolutionary areas such as artificial intelligence, machine learning, and drone technology. By embracing digital advancements, AKTU will pave the way for innovative solutions and foster a dynamic learning environment for its students and faculty.
Before assuming his current position, Prof. Pandey served as AKTU & Controller of Examination, where he introduced pioneering initiatives like digital evaluation and an online question paper delivery system.
His progressive approach towards technological integration will undoubtedly continue to benefit AKTU in its pursuit of academic excellence. 
With his visionary leadership, we are confident that AKTU will continue to flourish as a premier technical university, providing students with a transformative educational experience and contributing to the advancement of society as a whole.