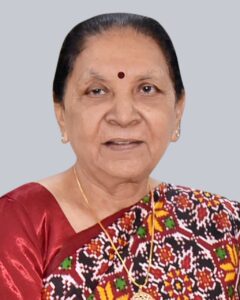 Anandiben Mafatbhai Patel (born 21 November 1941) is an Indian politician serving as the current Governor of Uttar Pradesh. She also served as the Governor of Madhya Pradesh. She was the first female Chief Minister of Gujarat. She has been a member of the Bharatiya Janata Party (BJP) since 1987. She was the Cabinet Minister for Education from 2002 to 2007. She was also the Cabinet Minister of Road and Building, Revenue, Urban development and Urban Housing, Disaster Management and Capital Projects in the Government of Gujarat from 2007 to 2014.
Anandiben's entry into politics was a very dramatical incident that happened during a school picnic. In 1987, she jumped into the Sardar Sarovar reservoir to save two girls who were drowning during the school picnic. For this she was awarded by the President for bravery and later the BJP invited her to join the party. At first, she was hesitant to join politics, but after persuasion by Keshubhai Patel and Narendra Modi, she joined the party as the Gujarat Pradesh Mahila Morcha President in 1987.
She moved to N.M. High School for her high school studies which had only three girl students at the time. In school, she was an excellent athlete and remained a district level champion for three consecutive years. She joined college to study BSc in 1960. She excelled throughout as a student and was awarded the "Veer Bala" award in Mehsana for her outstanding achievement in athletics. In 1960, she joined the M.G. Panchal Science College at Pilvai. After completing a Bachelors degree in science in Visnagar, she was married to Mafatbhai Patel in 1962.
Anandiben Patel was elected to the Rajya Sabha from Gujarat in 1994. As an MP, she represented India in the Fourth World Women's Conference at Beijing in 1994–95. She also visited Bulgaria with the BJP Leader, Atal Bihari Vajpayee, and Speaker of the Lok Sabha, P. A. Sangma. She resigned from Rajyasabha in 1998 and contested her first assembly election from assembly constituency. She won and became the Cabinet Minister for education under the Chief Minister Keshubhai Patel.In her first term as the Education Minister, Patel started "Lok Darbar" to address issues related to schools and education. It was under her leadership that the state Government first launched "Shala Praveshotsav" to increase enrollment in schools, which is still the flagship program of the Education department. Her efforts resulted in a 100% increase in enrollment.
In her first two years as an Education Minister, Patel initiated a campaign to recruit 26,000 teachers to fill positions that had been vacant for six years. She is also credited for her work to reduce corruption in the transfer of teachers and establishing a school for handicapped children.