Admission Open for 2023 – 2024

Phone Number
9651 828 007
Contact Address
9651 828 007
Email Address
admission@ambalika.co.in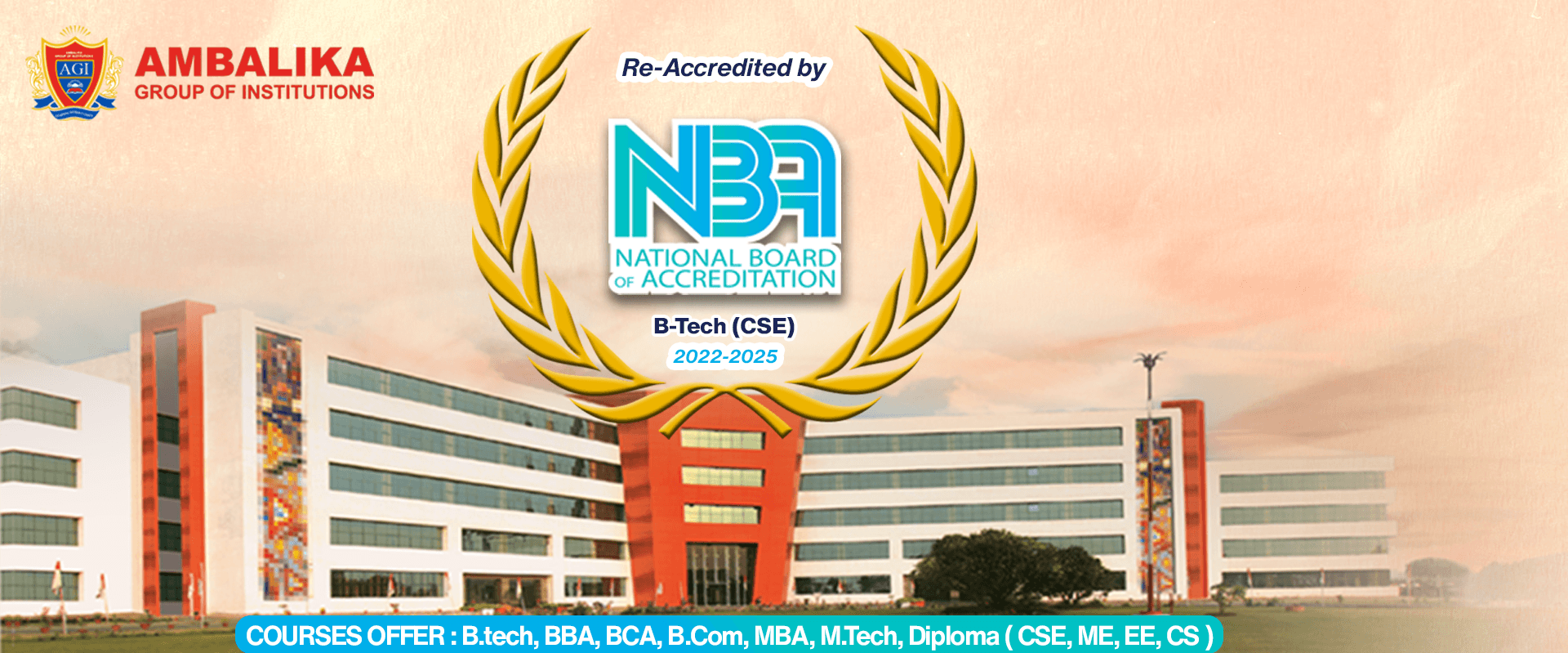 Placements of Our College
CS, IT, ECE, ME, CE, MBA, CS
| | | | | | | |
| --- | --- | --- | --- | --- | --- | --- |
| SN | SUBJECT | 2018-2019 | 2019-2020 | 2020-2021 | 2021-2022 | 2022-2023 |
| 1 | TOTAL NO STUDENTS | 127 | 105 | 84 | 106 | 124 |
| 2 | TOTAL NO OF STUDENTS PLACED | 95 | 77 | 60 | 73 | 19 |
| 3 | TOTAL NO PLACED STUDENTS ON CAMPUS | 90 | 60 | 55 | 65 | 19 |
| 4 | TOTAL NO PLACED STUDENTS OFF CAMPUS | 5 | 8 | 8 | 8 | 6 |
| 5 | TOTAL NO OF STUDNTS OPTED FOR PLACEMENT | 104 | 99 | 80 | 73 | 74 |
| 6 | TOTAL NO OF STUDNTS PARTICIPTED IN PLACEMENT | 100 | 99 | 74 | 73 | 74 |
| 7 | TOTAL NO OF COMPANIES VISITED | 50 | 53 | 49 | 37 | 29 |
| | | | | | | |
| --- | --- | --- | --- | --- | --- | --- |
| SN | SUBJECT | 2018-2019 | 2019-2020 | 2020-2021 | 2021-2022 | 2022-2023 |
| 1 | TOTAL NO STUDENTS | 15 | 8 | 10 | 13 | 21 |
| 2 | TOTAL NO STUDENTS PLACED | 7 | 5 | 7 | 7 | 5 |
| 3 | TOTAL NO PLACED STUDENTS ON CAMPUS | 7 | 3 | 6 | 6 | 5 |
| 4 | TOTAL NO PLACED STUDENTS OFF CAMPUS | 2 | 2 | 1 | 1 | 0 |
| 5 | TOTAL NO OF STUDNTS OPTED FOR PLACEMENT | 7 | 8 | 10 | 13 | 16 |
| 6 | TOTAL NO OF STUDNTS PARTICIPTED IN PLACEMENT | 7 | 6 | 9 | 13 | 16 |
| 7 | TOTAL NO OF COMPANIES VISITED | 50 | 53 | 49 | 37 | 29 |
| | | | | | | |
| --- | --- | --- | --- | --- | --- | --- |
| SN | SUBJECT | 2018-2019 | 2019-2020 | 2020-2021 | 2021-2022 | 2022-2023 |
| 1 | TOTAL NO STUDENTS | 29 | 30 | 21 | 23 | 16 |
| 2 | TOTAL NO STUDENTS PLACED | 15 | 18 | 13 | 10 | 1 |
| 3 | TOTAL NO PLACED STUDENTS ON CAMPUS | 13 | 16 | 12 | 9 | 1 |
| 4 | TOTAL NO PLACED STUDENTS OFF CAMPUS | 2 | 2 | 3 | 1 | 0 |
| 5 | TOTAL NO OF STUDNTS OPTED FOR PLACEMENT | 17 | 24 | 21 | 23 | 10 |
| 6 | TOTAL NO OF STUDNTS PARTICIPTED IN PLACEMENT | 17 | 22 | 15 | 15 | 9 |
| 7 | TOTAL NO OF COMPANIES VISITED | 50 | 53 | 49 | 37 | 5 |
| | | | | | | |
| --- | --- | --- | --- | --- | --- | --- |
| SN | SUBJECT | 2018-2019 | 2019-2020 | 2020-2021 | 2021-2022 | 2022-2023 |
| 1 | TOTAL NO STUDENTS | 62 | 75 | 50 | 53 | 48 |
| 2 | TOTAL NO STUDENTS PLACED | 25 | 40 | 30 | 19 | 14 |
| 3 | TOTAL NO PLACED STUDENTS ON CAMPUS | 25 | 27 | 29 | 19 | 10 |
| 4 | TOTAL NO PLACED STUDENTS OFF CAMPUS | 3 | 3 | 1 | 0 | 4 |
| 5 | TOTAL NO OF STUDNTS OPTED FOR PLACEMENT | 28 | 41 | 24 | 0 | 16 |
| 6 | TOTAL NO OF STUDNTS PARTICIPTED IN PLACEMENT | 28 | 35 | 30 | 19 | 16 |
| 7 | TOTAL NO OF COMPANIES VISITED | 20 | 15 | 19 | 20 | 6 |
| | | | | | | |
| --- | --- | --- | --- | --- | --- | --- |
| SN | SUBJECT | 2018-2019 | 2019-2020 | 2020-2021 | 2021-2022 | 2022-2023 |
| 1 | TOTAL NO STUDENTS | 107 | 60 | 59 | 57 | 32 |
| 2 | TOTAL NO STUDENTS PLACED | 64 | 37 | 37 | 20 | 5 |
| 3 | TOTAL NO PLACED STUDENTS ON CAMPUS | 4 | 20 | 36 | 20 | 5 |
| 4 | TOTAL NO PLACED STUDENTS OFF CAMPUS | 60 | 17 | 1 | 1 | 0 |
| 5 | TOTAL NO OF STUDNTS OPTED FOR PLACEMENT | 10 | 6 | 37 | 20 | 30 |
| 6 | TOTAL NO OF STUDNTS PARTICIPTED IN PLACEMENT | 10 | 6 | 37 | 20 | 30 |
| 7 | TOTAL NO OF COMPANIES VISITED | 4 | 5 | 6 | 8 | 3 |
| | | | | | | |
| --- | --- | --- | --- | --- | --- | --- |
| SN | SUBJECT | 2018-2019 | 2019-2020 | 2020-2021 | 2021-2022 | 2022-2023 |
| 1 | TOTAL NO STUDENTS | 27 | 45 | 31 | 19 | 32 |
| 2 | TOTAL NO STUDENTS PLACED | 22 | 40 | 27 | 10 | 4 |
| 3 | TOTAL NO PLACED STUDENTS ON CAMPUS | 17 | 35 | 20 | 10 | 4 |
| 4 | TOTAL NO PLACED STUDENTS OFF CAMPUS | 5 | 5 | 7 | 0 | 0 |
| 5 | TOTAL NO OF STUDNTS OPTED FOR PLACEMENT | 25 | 40 | 29 | 10 | 17 |
| 6 | TOTAL NO OF STUDNTS PARTICIPTED IN PLACEMENT | 25 | 39 | 28 | 15 | 13 |
| 7 | TOTAL NO OF COMPANIES VISITED | 30 | 32 | 35 | 20 | 5 |
PRE – PLACEMENT ACTIVITIES
Communication, Networking & Relationship Building
1.Invitation to potential recruiters to visit the Institute.
2.Continuation of placement activities after the stipulated period, till all the students are placed.
3.General follow-up, joining formalities and other administrative activities.
4.Grooming and training of the candidates for the placements so that their chances of selection increase.
The students are trained on aspects like:
Facing Interviews.
Facing Group Discussions.
Professional Resume Writing.
Cracking Aptitude Exams.
Skill Development Sessions & Programs.
Preparing Mock Exercises.
Recruitment and Placement Sessions.
Arranging Seminars and Technical talks.
Basic Grammar
Improving the communication abilities of students and technical knowledge of student.
To Bridge the gap that currently exists between the Industry and fresh professionals for recruitment purposes.
To minimize Stage fear.
To build confidence among students.
To make students know the Importance of Training & Placements.
 Make them prepared for further training session and placements.

Student Life Development Program (SLDP)
VISION
To nourish the students, blossom them into tomorrow's world class professionals and good human beings by inculcating the qualities of sincerity, integrity and social ethics.
Mission
1. To provide the finest infrastructure and excellent environment for the academic growth of the students to bridge the gap between academia and the demand of industry.
2. To expose students in various co- curricular activities to  convert them into skilled professionals.
3. To grind very enthusiastic engineering and management  student to transform him into hard working, committed, having a zeal to excel, keeping the values of devotion, concern and honesty .
4. To involve the students in extracurricular activities to make them responsible citizens.
About us
Ambalika Institute of Management and Technology (AIMT) was established in 2008 as a private engineering and management college in (Mohanlalganj) Lucknow, Uttar Pradesh India and is affiliated to AKTU and BTE and Approved by AICTE.
Contact us
Ambalika Institute of Management & Technology,
Maurawan Road, Mohanlalganj,
Lucknow, Uttar Pradesh
Pin Code : 226301
Tel : 0522-4263330
Email-Id :admission@ambalika.co.in